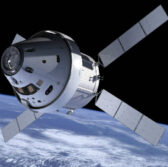 A joint venture of Thales Group and Finmeccanica has secured a potential $103 million contract from Airbus to build thermomechanical platforms for the Orion spacecraft"™s European Service Module.
Thales Alenia Space will supply thermal control, consumable storage components, micrometeoroid and structure protection systems for the space capsule"™s ESM, Thales Group said Thursday.
ESM will work to provide thermal control, propulsion and power supply capabilities for NASA"™s Orion, which is designed to perform human spaceflight missions into deep space.
Airbus is the ESM's primary contractor under a contract with the European Space Agency.
NASA plans to launch the spacecraft"™s unmanned test flight with Europe"™s participation in 2018 and first crewed flight mission by 2021.