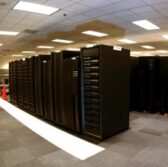 A new Research and Markets report predicts the U.S. market for green data centers to grow at a compound annual growth rate of 26.35 percent over the next decade.
Research and Markets said Thursday the market will be driven by the demand among data center operators for computer systems facilities that are designed to reduce energy costs and environmental impact.
Companies such as Microsoft, Apple, Intel, Google and Facebook have begun to set up data centers that run on renewable energy sources such as solar, wind, micro-hydro, geothermal and biogas fuel cells, according to the report.
In addition to the use of renewable sources, recycling of waste and free cooling are some of the concepts involved in green data facilities.
The report cited Cisco Systems, Dell, Hewlett-Packard, Emerson Network Power, IBM, Schneider Electric and Rittal as key market players.