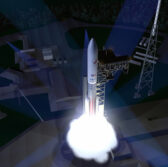 United Launch Alliance has selected Orbital ATK as the sole provider of solid boosters for the Atlas V and Vulcan launch vehicles as part of a long-term strategic partnership between both businesses that takes effect in 2019.
Orbital ATK said Tuesday it will design and develop two new motors for the Boeing–Lockheed Martin joint venture to support both government and commercial launches.
Dulles, Va.-based Orbital ATKÂ plans to introduce the boosters to Atlas V by late 2018 and to the future Vulcan by mid-2019.
Aerojet Rocketdyne, which had its $2 billion offer for ULA rejected by Boeing last week, is the current supplier of solid rocket motors for the Atlas V.
ULA will supply two Atlas rockets for the late 2015 and early 2016 launches of Orbital ATK Cygnus spacecraft to carry out a cargo mission to the International Space Station.