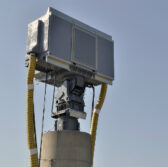 A Northrop Grumman business unit has teamed up with Denmark-based Terma in an effort to develop and bring new navigation tools and surveillance radars to the naval market.
Northrop Grumman Sperry Marine"™s partnership with Terma intends to integrate "near, low level air and surface surveillance capability to our navigation suite, in addition to out-of-the-box compliance with International Maritime Organization requirements," Jan Hansen, director of global business development at Northrop Grumman Sperry Marine, said Thursday.
Northrop has created a new surveillance system intended for its line of VisionMaster FT radars and is designed to interact with the Terma-built Scanter 6002 surveillance radar system.
Lars Weiss Laursen, director of radar sales at Terma, said the surveillance radar works to "detect small targets in low visibility, harsh weather conditions."