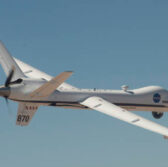 NASA and three aeronautical technology firms have collaborated to demonstrate the collision avoidance functions of an Ikhana unmanned aerial system at the agency's Armstrong Flight Research Center at Edwards, California.
Ikhana worked to alert a remote pilot or maneuvered itself to avoid approaching aircraft while it flew over California's high desert region, NASA said Thursday.
The UAS is equipped with a General Atomics-built detect-and-avoid sensor, an automatic dependent surveillance-broadcast technology from BAE Systems and a Honeywell International-made traffic alert and collision avoidance system.
The latest demonstration marks the third in a series of tests under the Unmanned Aircraft Systems Integration in the National Airspace System program.
"Our ability to meet the challenge of integrating UAS into the national airspace system, wouldn't be possible without the strong partnership that exists between NASA and its aeronautical industry partners," said Dennis Hines, NASA director of programs at Armstrong Flight Research Center.
NASA said data gathered during the flight tests can guide organizations that formulate drone operation standards.