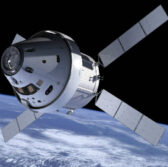 Lockheed Martin will conduct final decontamination, post-flight analysis and acoustic technology tests on the NASA Orion spacecraft that flew on a space mission last year.
The space agency said Tuesday it has delivered the crew module from Kennedy Space Center in Florida to Lockheed's facility in Colorado for the activities.
According to Lockheed, its tests on the Direct Field Acoustic technology aim determine if it can generate energy that would represent acoustic loads during launch and ascent onboard the Space Launch System rocket.
Findings will help gauge how Orion performs against acoustic loads during the future Exploration Mission-1 and acoustic tests will run through early next year.