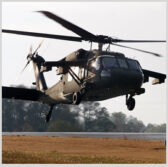 The U.S. Army has issued a solicitation in search of design proposals from industry for a new engine to replace General Electric-built T700-GE-701C/D engines that run on UH-60 Black Hawk and AH-64 Apache helicopters, the Army website reported Tuesday.
The Improved Turbine Engine Program is designed to equip Apache and Black Hawk aircraft with 3,000 shaft horsepower-class engines needed to support the helicopters"™ turboshaft propulsion functions.
The service branch plans to award an engineering and production contract to a single engine manufacturer to carry out work on the program by the fourth quarter of fiscal year 2018.
Proposals for ITEP are due Nov. 9 and the Army plans to procure 6,215 units of ITEP engines.
Low-rate initial production is scheduled to start by the third quarter of fiscal year 2024 and ITEP will enter the full-rate production phase by the fourth quarter of fiscal 2026, the Army said.