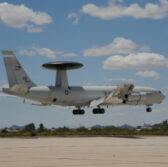 The U.S. Air Force has completed the first installation of Telephonics' AN/UPX-40 "identification friend or foe" interrogation system onto the Boeing-built E-3 Sentry Airborne Warning and Control System aircraft.
Justin Oakes wrote July 28 that the Air Force will equip its entire fleet of 31 AWACS aircraft with the new interrogation system, which replaces AN/APX-103C and features Mode 5 Interrogation upgrades.
Nick Grudziecki, deputy program manager at the AWACS Next Generation IFF program office at Hanscom Air Force Base, said AN/UPX-40 works to detect even weak signals or maneuvering targets at all ranges.
"The new interrogation capabilities also provide faster detection of friendly targets," he added.
Eight more AN/UPX-40 installations are scheduled through the end of the year, Oakes reports.
The report said the interrogation system upgrade is part of the larger Block 40/45 AWACS modernization effort.