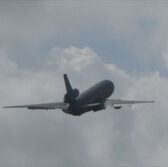 Northrop Grumman has dispatched the 150th KC-10 Extender aerial refueling tanker for the U.S. Air Force after the company performed depot-level maintenance work on the aircraft.
"Deliveries were made on or ahead of schedule and met or exceeded quality expectations, which has been instrumental in the Air Force's production of an untold number of combat refueling sorties," John Parker, vice president and general manager of the integrated logistics and modernization division at Northrop's technical services business, said Wednesday.
The company has worked with TIMCO Line Care, AAR, Chromalloy and MTU Maintenance since 2009 to provide overhaul, maintenance, logistics and engine and supply chain management services for the KC-10 fleet.
Work occurs at facilities in Lakes Charles, Louisiana, and in Greensboro, North Carolina.
Northrop said the tanker's CF6-50 engine fleet performance rate hit a 15-year high and that company-provided services helped the military branch exceed a benchmark sustained mission-capable rate of 85 percent.