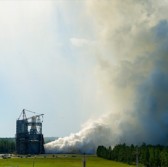 NASA has concluded a series of seven developmental tests on an Aerojet Rocketdyne-made engine for the Space Launch System at the Stennis Space Center in Mississippi ahead of the rocket"™s mission to Mars and other deep space destinations.
The 535-second hot-fire test on the RS-25 engine sought to gather information on inlet pressure conditions, engine controller component and temperatures, Steve Wofford, engines manager at NASA"™s Marshall Space Flight Center in Alabama, said Friday.
"We also want to mitigate any risks on the ground before flight," he added.
The space agency will also use the data to create a new engine control unit intended for communication functions and engine status monitoring.
Aerojet Rocketdyne built the RS-25 engine work with two five-segment rocket boosters to propel and launch the SLS into space.
NASA engineers will start tests on RS-25 flight engines and the rocket"™s core stage this fall.