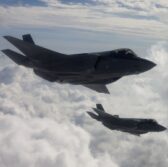 Rockwell Collins has unveiled its helmet mounted display system for F-35 fighter aircraft pilots during an event held Tuesday at the company's headquarters in Cedar Rapids, Iowa.
A Rockwell Collins–Elbit Systems of America joint venture built the Gen III F-35 HMDS and the device is scheduled for inclusion to Lockheed Martin's low rate initial production Lot 7 F-35s, Rockwell Collins said Tuesday.
HMDS is designed to help fighter pilots gain situational awareness during daytime or nighttime missions.
Northrop Grumman has built a distributed aperture system that will work to transmit real-time imagery from multiple infrared cameras mounted around the F-35 to the helmet, according to Rockwell Collins.
Rockwell Collins ESA Vision Systems has produced more than 200 helmets for the F-35 program.
Sen. Joni Ernst (R-Iowa) experienced flying an F-35 demonstrator at the Rockwell Collins-hosted event.