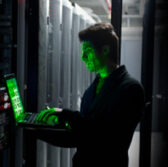 A KPMG survey has found that 81 percent of chief information officers, chief security officers and other executives at healthcare companies say their computer systems have been targets of cyber attacks over the past 24 months.
The audit firm said Wednesday it interviewed 223 CIOs, CSOs and other senior executives and found that only 53 percent of respondents at hospitals and other health providers feel their organizations are prepared for cyber attacks.
"Patient records are far more valuable than credit card information for people who plan to commit fraud, since the personal information cannot be easily changed," said Michael Ebert, leader of the healthcare and life sciences cyber practice at KPMG.
"A key goal for execs is to advance their institutions' protection to create hurdles for hackers."
More than 60 percent of respondents said malware is the most common network vulnerability in their organizations, according to the survey.
At least 15 percent of respondents said their organizations do not have the capacity to detect network attack incidents in real time.
The survey also identified employee breaches, inadequate firewalls, third-party information sharing and external threat actors as the most frequent areas of attacks in a healthcare organization.