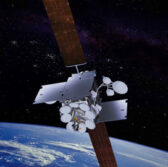 Inmarsat will launch the third satellite of its Global Xpress satellite communications constellation at Kazakhstan-based Baikonur Cosmodrome on Aug. 28.
International Launch Services will use a Proton launch vehicle to roll out the Boeing-built Inmarsat-5 F3 satellite, Inmarsat said Monday.
The I-5 F3Â satellite is designed to provide mobile broadband services across the Pacific Ocean region.
Rupert Pearce, CEO of Inmarsat, said the Global Xpress platform will work to "support value-added services and solutions for our government and enterprise customers on land, at sea and in the air."
Inmarsat said it expects to begin offering commercial GX communications services worldwide by year-end once it launches the third satellite.