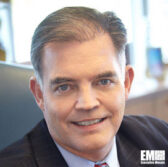 Our sister site GovCon Wire broke the story Wednesday morning that Chuck Prow, who more recently led IBM"™s global government business, has retired from the company to take a new role as a principal at investment firm Sterling Capital Group Partners and hold the president title at its portfolio company CPS-Professional Services.
Sterling is veteran-owned equity firm based in Fairfax, Va., while CPS is a veteran-owned small business also headquartered in Fairfax and that holds contracts with several U.S. defense and civilian agencies.
Here is ExecutiveBiz"™s full interview with Prow on what attracted him to Sterling and CPS and areas he envisions for potential growth.
ExecutiveBiz: What led you to start a new chapter of your career at Sterling and CPS?
Chuck Prow: I greatly enjoyed my 25 years at Coopers & Lybrand, PwC and IBM. It was an amazing journey that offered opportunities to work with governments and businesses in the U.S. and worldwide. I"™m proud to be an IBMer and now-retired IBM executive.
I always had a desire to spend the next phase of my career in an entrepreneurial, public sector-oriented growth company. After meeting Sterling founder Bill Wade, it became clear that we shared a passion for the public sector and in building a unique business.
Bill"™s successful entrepreneurial and national security background, combined with my experience across the public sector and in building businesses, felt like a great combination and the right time to make a career transition.
Finally, I am deeply committed to working with industry, civic and charitable organizations on community outreach. One of CPS' foundational tenants is to give back. My roles at Sterling and CPS will involve significant local community engagement as we build the business.
I have also served on the boards of the Wolf Trap Foundation, World Affairs Council, International Research and Exchange Board and supported STEM-related activities. I look forward to continuing these activities among others.
ExecutiveBiz: How do you envision bringing your IBM background to Sterling and CPS?
Chuck Prow: I have spent my entire three-decade career with the last 15 in the public sector helping large complex organizations improve performance through the execution of enhanced operational technology-based improvement programs. I fully expect to leverage this experience and apply it in a small business capacity.
Small business plays a critical role as industry and government work to improve the effectiveness of government missions. As a small business CPS will be very targeted, disciplined and mission oriented in the growth opportunities we pursue. Our size does provide advantages when it comes to innovation and agility.
The U.S. public sector market needs new and creative approaches to improving core mission outcomes. At Sterling and CPS, we will focus on meeting customer"™s mission demands through the application of these new and emerging capabilities.
ExecutiveBiz: How would you describe CPS' core portfolio and current federal market footprint?
Chuck Prow: CPS is a small business that provides performance improvement and program management services to federal government clients. CPS is an excellent platform to leverage as we expand from its current capability and client footprint.
In fact, CPS has a patent-pending business improvement framework that in my opinion provides a small business outcome capability with large business maturity.
I am very impressed with the quality of CPS"™ people, the depth of client relationships and the breadth of its contract base for a small and relatively new business.
ExecutiveBiz: Where do you see opportunities to grow CPS' platform and expand Sterling's portfolio?
Chuck Prow: The immediate priority is to grow CPS and to expand into targeted adjacent client opportunities by leveraging the strength of our qualifications and contract base. CPS is a veteran-owned business with a pending service-disabled application.
The talent of the CPS people, combined with the strength of the Sterling board that includes the former Homeland Security Secretary Tom Ridge, President Reagan"™s security adviser Bud McFarlane and our leadership team will provide a catalyst for organic CPS growth.
CPS seeks to expand our market base and our capabilities portfolio through organic growth and targeted acquisitions. We will expand our base into select mission-oriented capabilities and targeted technologies. Sterling will look to select civilian and national security missions for growth opportunities. We will also aggressively focus on expanding our alliances and partnerships with large and niche businesses.
I also see one pillar of our growth as the focus on talent and human capital acquisition and development. The focus on growing and developing talent is paramount to any business and it will be a pillar of the growth agenda for both Sterling and CPS.
ExecutiveBiz: You allude to "mission orientation," how do you define that?
Chuck Prow: The public sector faces tremendous challenges with underserved, under-invested and fragmented delivery of core missions. Take mental health as an example: mental healthcare provision is fragmented across county, state and federal jurisdictions, and is underserved from a technology and investment perspective with profound consequences for individuals while significantly impacting long-term healthcare costs.
Similar examples exist across the targeted markets and we will explore opportunities for growth in those areas. We will help governments and government service providers put the pieces together to be able to improve outcomes. That is a big task and we are a small business, but there is an important role for small business as industry and government work to improve the effectiveness of agencies' missions.