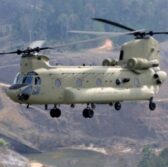 Boeing will form a joint venture with Saudia Aerospace Engineering Industries and Alsalam Aircraft Company to open the Saudi Rotorcraft Support Center in Riyadh and Jeddah.
Boeing said Wednesday the center will provide maintenance, repair and overhaul services for the sustainment of Saudi Arabia's commercial and defense helicopters.
The country's rotorcraft fleet includes Boeing's AH-64 Apache, CH-47 Chinook and AH-6i.
Leanne Caret, president of the global services and support business at Boeing, noted that the support center will work to bolster fleet and personnel readiness for the Saudi military.
Boeing added that the joint venture will engage with local industry and help expand skills and opportunities in the workforce.
The companies expect to complete the formation of the joint venture by early 2016, Boeing said.