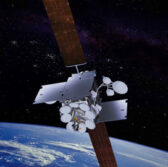 A new Boeing-made satellite lifted off Friday from Kazakhstan onboard an International Launch Services-built Proton Breeze M space vehicle to become part of Inmarsat"™s Global Xpress satellite communications network.
Rupert Pearce, CEO of Inmarsat, said Thursday the new GX satellite joins a constaellation that works to help customers quickly introduce new applications and offer remote mobile broadband services to clients.
Inmarsat introduced the second Inmarsat-5 satellite in February and started to provide commercial broadband services across the Atlantic Ocean and the Americas this month.
Boeing said Saturday it will subject the Inmarsat-5 F3 satellite to testing in an effort to achieve full operational capability by year-end necessary to provide broadband communications services for government and commercial customers worldwide.
Boeing expects to deliver the fourth Inmarsat-5 satellite for GX by the middle of next year and currently offers Ka-band military satellite communications services to government clients through a marketing partnership with Inmarsat.