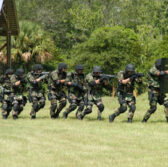 The U.S. Army is seeking industry partners with capabilities to provide Next Generation Game training technology as part of a market research conducted by the service's Program Executive Office for Simulation, Training and Instrumentation.
In a special notice posted Friday on FedBizOpps, the Army said it is planning to utilize commercial gaming technologies to deliver game-based training for individual soldiers and small or midsize units.
Relevant technology capabilities include higher-fidelity graphics, extensions for different platforms, support for cloud storage, and interoperability with Live-Virtual-Constructive and Joint Intergovernmental Interagency Multinational systems, the notice stated.
The Army noted that it will use the technology to foster experiential learning among soldiers by simulating tactical scenarios and environments.
Responses are due Sept. 30.