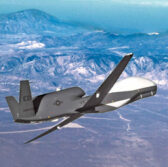 Tractica has predicted in a new report that commercial unmanned aerial vehicle applications will reach $8.7 billion in annual revenue by 2025.
The report projects the growing interest in drones from companies, universities and government agencies for commercial applications to drive UAV annual shipments to 2.6 million units by 2025 from 80,000 in 2015, Tractica said Tuesday.
"Key industries that will drive the adoption of commercial drones include film, media, agriculture, and oil and gas," said Clint Wheelock, managing director of Tractica.
"Meanwhile, the strong growth in the drone-enabled services market will be driven by applications such as filming and entertainment, mapping, aerial assessments, prospecting and disaster relief," added Wheelock.
He said the industry will also face challenges from regulatory policy, public perception, safety and privacy.