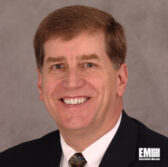 Tom Lydon joined Reston, Va.-based information technology contractor Vistronix in January 2013 as senior vice president of business development and brings almost 25 years of defense industry experience to the company.
Vistronix announced three acquisitions in December 2014 – buys of ACG, ExaTech and Objective Solutions — and said the purchases were made to grow in the intelligence sector.
Lydon overviewed Vistronix's thinking behind those moves in this conversation with ExecutiveBiz and also discussed a government-wide move to what he called the "agile development" approach for C4ISR, as well as where open source factors in that shift.
ExecutiveBiz: What market indicators led Vistronix to make those three acquisitions?
Tom Lydon: In the markets we serve – national intelligence, defense, C4ISR and civilian agencies — it is unquestionable that our clients are dealing with vast and sometimes overwhelming amounts of data. Deriving knowledge from this data is becoming increasingly more difficult, but ever more important. As that data has continued to expand exponentially,our clients have had to continue to evolve to meet demand.
We intend to help them meet this challenge. The need for actionable intelligence has been undeniable expanding our portfolio in this direction was a logical decision.
ExecutiveBiz:Which aspects of cloud and data analytics is Vistronix most interested in?
Tom Lydon: Big data is a core competency that animates our entire business. We help our clients ingest massive amounts of data, analyze and transform that data, and move intelligence to the right people when and as needed. Within the big data realm, our offering is focused on data mobility and delivering advanced analytics. What this means for our clients is the ability to provide actionable intelligence anywhere and anytime.
You want to see those, at the pointy end of the spear, having access to this information as soon as practical on any device. It is our goal to derive and deliver actionable intelligence from big data and provide it to those who need it most when they most need it.
ExecutiveBiz: What trend in C4ISR do you see as the most prominent?
Tom Lydon: Having the right information at the right time to support decision-making and planning is mission-critical with all clients, but most importantly our national security clients. Developing systems to meet their needs in these austere times is challenging. One must take advantage of new software, focus on open source and reuse wherever practical.
In the days gone by, new systems were built from scratch. The trend now is to use agile development model, where new capabilities can be delivered and tested quickly.
ExecutiveBiz: Where do you see potential for more public-private collaboration in technology development?
Tom Lydon: Public-private collaboration has a lot of different connotations. We are finding that working with universities provides an opportunity to collaborate with researchers whose work is being done in the big data world right now, providing fresh and new ideas. We are establishing partnerships with many universities so we can leverage each other's capabilities.
Over the long run we will have better products. We also collaborate with our government partners and work to expand current architectures and systems. We are looking at Defense Department-funded opportunities that could result in new solutions for all the services.
ExecutiveBiz: What led you to join Vistronix two years ago and how do you see the company evolving in the next year?
Tom Lydon: I joined Vistronix almost two-and-a-half years ago for two primary reasons. First, the leadership team here had a clear vision for the company's future. I had a fantastic job at a great company before this. I wasn't in the market for a new job, but once the Vistronix team laid the strategy out, I became very excited about working here.
Frankly, it was all about the strategy and how we wanted to help our clients. The other reason is that I knew and I trusted the leadership team. Everyone I met after that was excited to be part of this company. The combination of a strong strategy and trusted leadership team was important and gave me the impetus to make the change.