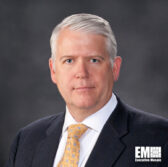 Rick Ambrose, executive vice president of Lockheed Martin's space systems unit, said the company looks to expand its commercial satellite business and aims for up to three commercial deals annually in an interview with Via Satellite posted Wednesday.
Mark Holmes writes that Ambrose pointed to contracts with commercial clients such as Arabsat as an indication of Lockheed's business shift in order to balance government and commercial programs.
"[There] are a couple of areas we have been focused on," Ambrose told Via Satellite in an exclusive interview.
"Firstly, we have been doing some modernization technology insertion on our A2100 satellite bus… Secondly, we want to transform the infrastructure."
He noted that Lockheed continues to work on cuts in costs and cycle times, investments in research and development and more capacity and throughput to meet client needs amid the current economic conditions.
"I think two to three [commercial contracts a year] is rational when you look at the numbers," Ambrose said.
"Because we are using the same systems and tools we are using for government customers, we can be profitable at those numbers."