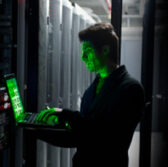 A Raytheon|Websense-commissioned study has revealed that unintentional human mistakes are the primary cause of many information technology security incidents at U.S. and German companies.
Seventy-percent of U.S. security professionals surveyed by Ponemon Institute attributed employee negligence to insider threat cases and 64 percent of German security personnel acknowledged the problem during the survey, Raytheon|Websense said Thursday.
The company estimates that human error-related breaches can cost a U.S. organization up to $1.5 million.
"Workplace stress, multitasking, long hours and a lack of resources and budget are the biggest contributors to employee negligence," said Raytheon|Websense President Ed Hammersla.
Sixty-percent of U.S. survey respondents said their organizations lack programs to properly educate staff on data security policies and 50 percent reported their companies' senior leaders do not prioritize data protection efforts.
Researchers also found that U.S. and German IT practitioners see contractors, end users or outside parties as biggest threat to enterprise security.
"Having programs in place that include a mixture of training, policy and technology are vital to addressing insider threats before they become a major issue," Hammersla added.