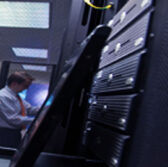 The Pentagon Force Protection Agency has conducted a cross-agency communications exercise to assess how the agency shares information with mission partners through the use of a security tool developed by AtHoc.
AtHoc said Tuesday the U.S. Army, Navy, Marine Corps, Air Force and the Department of Homeland Security deployed AtHoc Connect to send and receive information, control the route of notifications and protect personally identifiable data during the drill.
"We were pleased that AtHoc Connect proved to be helpful in supporting PFPA"™s inter-agency communication requirements," said Guy Miasnik, president and CEO of AtHoc.
"The exercise gives us confidence that we have a flexible and secure crisis communication platform to enable coordination and information sharing for the most demanding organizations," Miasnik added.
AtHoc Connect is designed to help mission partners communicate within and across their networks during emergency.