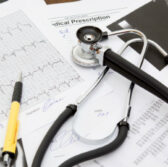 Lyndon Dacuan, market analyst at Onvia, believes the challenges faced by agencies to protect healthcare data present an opportunity for contractors.
Dacuan said Thursday agencies look for companies who are capable of providing network protection systems as cyber criminals continue to take interest in health information.
He recommended that companies form a "strong relationship" with agencies before the release of a request for proposal and take part in the RFP"™s formulation.
"Companies who wish to help support state and local health agency efforts to protect patient data should consider business and consulting services and IT software and services as key areas where the healthcare data security contracts are available," Dacuan writes.