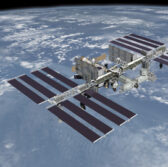 Microsoft is working with NASA on Project Sidekick to provide virtual training and assistance to the crew of the International Space Station through the company's HoloLens technology.
The space agency said June 26 the project aims to leverage commercial technology for the ISS crew's empowerment and efficiency.
Sam Scimemi, director of the ISS program at NASA, noted the project also aims to enable increased autonomy for Mars missions and future space exploration.
"Sidekick is a prime example of an application for which we envisioned HoloLens being used "" unlocking new potential for astronauts and giving us all a new perspective on what is possible with holographic computing," said Alex Kipman, technical fellow at Microsoft's Windows and devices group.
According to NASA, HoloLens operates in "Remote Expert Mode" and "Procedure Mode" to provide aid from either a human ground operator or animated holographic illustrations.
Astronauts may start to use the device by the end of the year.
Project Sidekick will also support the NASA Extreme Environment Mission Operations 20 expedition beginning July 21.