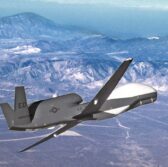 A MarketsandMarkets report projects that unmanned aerial vehicles for commercial use will grow from a $15.22 million business in 2014 to a $1.27 billion market by 2020.
The compound annual growth rate for the commercial UAV industry is projected to reach 109.31 percent over the next six years, MarketsandMarkets said Wednesday.
The research firm also forecasts the rotary-blade drone segment to capture approximately 72 percent of the overall market share.
California-based 3D Robotics and Switzerland-based SenseFly have been named the top commercial UAV developers for 2014 in MarketsandMarkets' report.
Other key industry players include AeroVironment, F. Airware, Drone Deploy, Precision Hawk, VDOS Global and Trimble UAS.