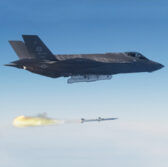 The U.S. Marine Corps has kicked tests on the first squadron of the Lockheed Martin-built F-35B aircraft as the service prepares for an initial operating capability declaration scheduled in July, Breaking Defense reported Tuesday.
Colin Clark writes the 12 Marines checked the aircraft and its maintenance procedures on Monday in Yuma, Arizona.
Marine spokesman Maj. Paul Greenberg told Clark the tests seek to "determine if the squadron and their aircraft are ready for contingency deployment use at IOC."
Pilots will fly an F-35B or a simulator at the end of the evaluation process as part of the squadron survey, according to the report.
Lt. Gen. Jon Davis, the USMC's aviation, is tasked to submit his recommendation on F-35B to Commandant Gen. Joseph Dunford for final decision after the tests, Breaking Defense reports.