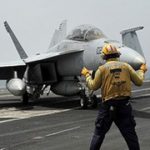 MacAulay-Brown has been awarded $12 million in subcontracts to provide engineering expertise for aircraft technology programs of the U.S. Air Force.
MacB said Monday it will support the Air Force's platform information technology certification and accreditation, analysis of alternatives and airworthiness measurement processes.
The company will also provide subject matter expertise in the avionics, cybersecurity and airborne intelligence, surveillance and reconnaissance areas.
MacB will perform contract work in Dayton, Ohio, and collaborate with USAF Life Cycle Management Command.
"We look forward to providing the technical solutions required to address critical mission challenges at AFLCMC," said Tim Lawrence, senior vice president and general manager of MacB's advanced technology group.