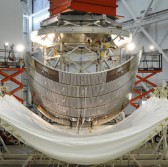 Lockheed Martin has evaluated the changes in the Orion spacecraft's fairing separation system design.
Engineers performed the tests on Orion's new push-off springs, crew module structural attachments, star trackers and pyrotechnic variances, and higher load cases in preparation for the first exploration mission, Lockheed said Thursday.
"The fairing separation is one of our very first critical events," said Mike Hawes, Lockheed' Orion vice president and program manager.
"If it doesn"™t work as planned, it"™s probable the mission cannot continue, and tests like this help ensure it will work right the first time and every time," Hawes added.
Lockheed used data from Orion"™s first test flight in December 2014 for the modifications.
The fairings work to protect the service module radiators and solar arrays from harsh environment during space entry.