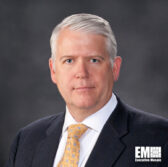 Lockheed Martin has opened a new center in Denver to house satellite sensing and communication technology development efforts.
The radio frequency payload center is built to accommodate the development, production and testing of reconfigurable payloads and satellite systems, Lockheed said Tuesday.
Rick Ambrose, executive vice president of space systems at Lockheed, said the new facility aims to help organizations carry out radio frequency system missions.
Researchers, manufacturers and analysts will have the space to collaborate on RF technology projects at the center.
Lockheed intends to partner with suppliers and research universities to produce antennas, arrays and transmitters out of the facility.