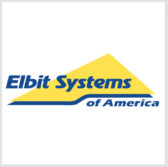 A subsidiary of Elbit Systems will support the Smart Vest joint soldier modernization program of Belgium, the Netherlands and Luxembourg under a five-year, $150 million prime contract with the Dutch defense ministry.
The company said Thursday Elbit Systems Land and C4I will supply digital soldier systems that work to bolster safety, survivability, effectiveness and other capabilities in the battlefield.
"We will welcome domestic Benelux companies to join us in the project in order to strengthen the support for the local customers," said Elbit Systems CEO Bezhalel Machlis.
According to Elbit, the Smart Vest technological program combines the efforts of Belgium's BEST, the Netherlands' VOSS and Luxembourg's COMPASS programs to bring advanced C4I, audio and data radio, vehicle, protective and wearable systems to Benelux soldiers.
Thales' business in the Netherlands will be a subcontractor on the program, Elbit said.