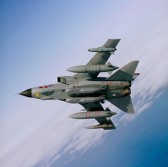 BAE Systems has partnered with Alsalam Aircraft to establish a maintenance, repair and overhaul services center for Eurofighter Typhoon jets operated by Saudi Arabia's military, Airforce Technology reported Wednesday.
"The work we have completed as a partnership has been critical in working towards our Typhoon in-Kingdom industrialization objectives," Andy Carr, managing director and CEO of BAE's Saudi Arabian subsidiary, was quoted as saying.
Typhoon combat planes are manufactured by a consortium of BAE, Airbus and Finmeccanica.
The aircraft is designed to perform air-to-surface attack missions and features multiple hardpoints on the weapon carriage and under the wings and fuselage.
Airforce Technology reports BAE and Alsalam also collaborated last year to install and commission aerospace ground equipment at an Alsalam facility.