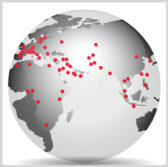 AtHoc and Esri have agreed to combine their platforms through a partnership in an effort to facilitate communication during emergencies and natural disasters.
AtHoc said Wednesday it will combine its Network Crisis Communication portfolio with Esri's geographical information system, dubbed ArcGIS.
The alliance will offer AtHoc clients access to Esri's GIS mapping tool designed to help users perform spatial data analysis, track the location of personnel, upload facility information on maps and send alerts to staff during emergency situations.