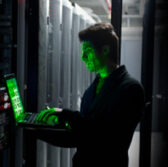 A Raytheon–Vista Equity Partners joint venture has published a report that says the financial services industry encounters cyber attacks about 300 percent more often than other business sectors.
Raytheon|Websense said Tuesday the "2015 Financial Services Drill-Down Report" showed the U.S. accounts for the majority of compromised hosts lurking in the sector's enterprise information networks.
"For years, this industry has been under attack by highly specialized groups of criminals," said Carl Leonard, principal security analyst at Websense.
"By analyzing the actions and attack patterns prominent and anomalous to this industry, we can share this knowledge to more effectively protect our customers' data and assets," Leonard added.
Websense researchers also found that one in three breaches that employ reconnaissance and luring techniques are aimed at financial companies.
Most hackers targeting the sector use malicious tools such as Rerdom, Vawtrack and Geodo. Interestingly to steal data and credentials, Raytheon|Websense noted.