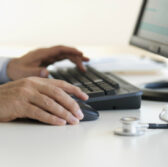 The Department of Veterans Affairs has exercised the third year option of its five-year contract with DecisionSim to expand the use of the latter's simulation teaching platform to agency employees.
The company said Tuesday its DecisionSim platform is designed to train and assess VA healthcare professionals and nonclinical staff through simulation of real-world medical processes and situations.
VA's Employee Education System team has integrated DecisionSim's offering with palliative care, nurse education, women's health, staff training and research efforts since the agency signed the contract in 2012, according to the company.
"We are pleased the VA is increasing its use of DecisionSim to help meet the simulation-training needs of its healthcare professionals and other stakeholders," DecisionSim CEO Bob Yayac said.
The company collaborates with management consulting firm Catapult Technology under the contract.