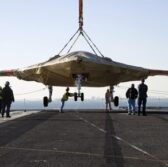 Engility Holdings has assisted the U.S. Navy in a program to demonstrate the automated aerial refueling of an X-47B unmanned aircraft built by Northrop Grumman.
The company said Thursday it engineered a navigation software system that worked to help the X-47B maneuver to a fixed position behind an Omega K-707 tanker during a recent demonstration.
Northrop and the Navy carried out the test in April to evaluate the Omega K-707 tanker's work to put 4,000 pounds of fuel into the X-47B.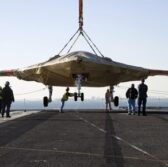 Engility also helped design power devices, sensors, radios, cables, antennas, cameras and custom circuit cards that were integrated into the tanker aircraft.
Tony Smeraglinolo, president and CEO of Engility and an inductee into Executive Mosaic's Wash100 list for 2015, said the Unmanned Combat Air System-Demonstration and Automated-Aerial-Refueling systems are designed to extend the U.S. military's drone capability.

The company supports the program under a $27.5 million recompete contract awarded by the Naval Air Warfare Center.