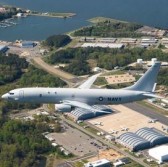 L-3 Communications has been selected to provide digital electro-optical sensor and infrared systems for the U.S. Navy's maritime patrol planes, Military & Aerospace Electronics reported Monday.
John Keller writes L-3 will also repair services and technical assistance for the military branch as part of the installation of its MX-20HD EO/IR system on board the Boeing-built P-8A Poseidon aircraft.
The MX-20HD sensor platform has laser illuminator components and multi-sensors that aim to provide reconnaissance, intelligence and surveillance capability for Poseidon planes, Keller notes.