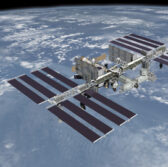 MacDonald, Dettwiler and Associates has been awarded an $8.95 million contract to develop new camera systems for the Canadian Space Agency's mobile servicing system onboard the International Space Station.
The camera systems will be designed to capture visiting spacecraft and aid in ISS maintenance and inspection work, MDA said Thursday.
"The technology will be applicable to a wide variety of future space applications — from inspection systems aboard commercial satellites to planetary missions," said Craig Thornton, a general manager at MDA.
MDA will also work to test flight cameras.
The camera will feature color, high dynamic range, advanced focus and digital zoom options.