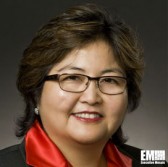 Lockheed Martin has turned over a third Mobile User Objective System satellite to the U.S. Navy after the company completed on-orbit testing on the spacecraft.
MUOS-3 is part of a network of satellites and relay ground stations designed to provide secure mobile communications to military users, Lockheed Martin said Wednesday.
"This latest satellite will expand the MUOS network's coverage over more than three-quarters of the globe, including significantly more coverage north and south than the current legacy voice-only system," said Iris Bombelyn, Lockheed's vice president for narrowband communications.
Lockheed unveiled MUOS-3 in Jan. 20.
MUOS-3 has been transferred to its on-orbit slot as the Navy prepares for operational acceptance of the satellite.