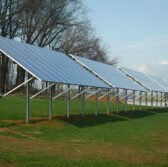 The General Services Administration has issued a solicitation for the installation of solar power systems on rooftops of government buildings in Washington under a potential 20-year power purchase agreement.
In a notice posted Thursday on FedBizOpps, GSA said the chosen contractor will provide design, maintenance and operations services as well as labor, tools, materials and equipment for the PV project.
Interested parties are required to confirm participation in the June 26 pre-proposal conference by June 19.
GSA said it will also hold site visits from July 7 to 9 and require confirmation of participation by the end of this month.
Any request for information should be available by July 15, while proposals are due Aug. 18, GSA said.