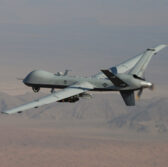 France's military has received a third unmanned Predator B/MQ-9 Reaper from General Atomics' aeronautical systems business to support intelligence, surveillance and reconnaissance as well as targeting missions.
The company said Friday this latest delivery is the third for the French air force and will join the two remotely piloted aircraft currently in service.
Frank Pace, president of aircraft systems for GA-ASI, said the order from France's defense procurement and technology agency is in support of national and coalition operations.
According to General Atomics, Predator B has a total payload capacity of 3,850 pounds and can fly up to 27 hours at a maximum altitude of 50,000 feet.
Operators at Air Base 709 in France currently use the RPAs to provide situational awareness, combat search and rescue and ground troop support.
The French air force plans to have 12 Reapers in service by 2019, General Atomics said.