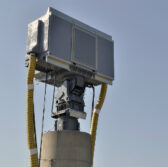 Exelis will continue to provide technology development support to Leidos for the second phase of the Defense Advanced Research Projects Agency's Adaptive Radar Countermeasures program as part of a potential $15.6 million subcontract.
Exelis said Wednesday it will integrate its electronic warfare hardware with Leidos' software-based algorithms and demonstrate counter-radar functions in a loop test environment.
"The work we're doing in partnership with Leidos and DARPA is laying important groundwork to ensure our warfighters can anticipate and outpace the agile radio frequency threats of the future," said Mitch Friedman, vice president and general manager of Exelis' integrated electronic warfare systems unit.
The five-year ARC program involves the Exelis-managed implementation of Leidos-developed software processing techniques for the protection of airborne platforms using electronic warfare systems, Exelis said.