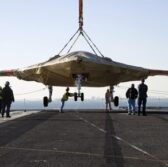 Northrop Grumman and the U.S. Navy have completed an autonomous aerial refueling test on the Northrop-built X-47B unmanned combat air system aircraft.
The X-47B system received more than 4,000 pounds of fuel from an Omega K-707 tanker using the Navy's probe-and-drogue method during the demonstration off the coast of Maryland and Virginia, Northrop said Wednesday.
"The AAR system and X-47B both performed as expected," said Pablo Gonzalez, UCAS-D program manager for Northrop Grumman's aerospace systems group.
"While we would certainly benefit from additional probe and drogue flight testing, we have reached a tipping point at which AAR is now feasible," Gonzalez added.
The X-47B communicated with the tanker via a refueling interface system aboard Omega K-707 during the test before the combat air system connected its fixed refueling probe to the tanker's drogue.
The test is part of the Navy's unmanned combat air system demonstration program and marks the first in-flight refueling for an unmanned aircraft, Northrop says.