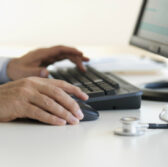 Optum has expanded its portfolio of information technology services intended to help medical facilities update their IT systems for operational and clinical management.
The Analytics Data Warehouse Services offering is designed to identify patient care, quality and cost trends in a hospital and the IT Infrastructure Services platform is built to standardize hospital processes, Optum said Monday.
The company also partnered with Cisco to develop Smart Connection Solutions aimed at helping providers connect with patients before, during and after care delivery.
Bill Miller, CEO of OptumInsight, said the companies integrated their healthcare IT tools into the offering to help address the needs of hospital administrators, clinicians and patients.
Optum's Smart Connection Solutions platform is designed with Cisco-built collaboration, networking and communication technologies.
Optum will showcase a range of healthcare IT products and service offerings at the ongoing HIMSS15 industry forum in Chicago.