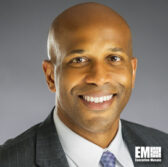 Military and intelligence organizations are poised to leverage higher-resolution satellite images to drive innovation following the full implementation of the Commerce Department's new rule on the images' global availability, C4ISR & Networks reported Tuesday.
Adam Stone writes that as of last month, higher-resolution images can be sold globally to support various missions, including those of the National Geospatial-Intelligence Agency in the U.S.
The report notes that while DigitalGlobe may be the only company that provides images with resolution down to 30 centimeters, this could boost competition and technological development as other providers seek to further improve image accuracy.
"We have 10 major international defense and intelligence customers who leverage us to supplement their overhead architecture," said Tony Frazier, senior vice president for government solutions at DigitalGlobe and an inductee into Executive Mosaic's Wash100 for 2015.
"Having the ability to help those customers understand the threats to their borders, that is really the use case we are supporting."
One of the company's customers is NGA, the report said.
Stone notes that besides image resolution, radar technology improvements and the growing size of satellite constellations are other competitive factors in a satellite data market projected to reach $5.1 billion in value by 2023.