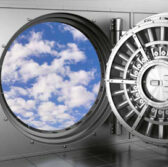 A Research and Markets report predicts the global market for managed data storage, backup and archiving services will grow at a 37.96 percent compound annual growth rate from 2015 to 2019.
The research firm said Friday the storage-as-a-service model is designed to help organizations recover enterprise data and ensure business continuity in the event of a disaster.
STaaS providers also work with enterprise clients to archive historical business information in cloud infrastructure, according to the market report.
The report also noted that organizations' concerns about data security are growing as cloud technologies and encryption and decryption mechanisms continue to evolve.
Key STaaS vendors profiled in the report include Amazon, AT&T, Hewlett-Packard, IBM and Microsoft.