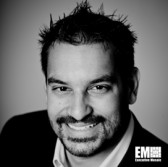 Omar Balkissoon helped to start Chantilly, Va.-based OGSystems in 2005 and has served as CEO of the systems integration contractor ever since.
The company made a push to grow its geospatial market footprint earlier this year through the acquisition of Urban Robotics, a maker of aerial data collection technology.
Balkissoon recently caught up with ExecutiveBiz to discuss OGSystems' decision to purchase Urban Robotics and chart the 10-year history from its founding with an outlook of the direction he wants the company to go in.
ExecutiveBiz: What trends and indicators led your company to buy Urban Robotics?
Omar Balkissoon: The unmanned aircraft systems market is huge, and has really exploded recently. Our customers focus squarely on high-resolution 3D models and color aspects. The ability to harness sensors and high fidelity electro-optical imagery, larger coverage areas, large amounts of data coming in, and the ever-increasing appetite for ISR products really aligned with what we are currently doing.
OGSystems is a leader in bleeding edge, highly complex 3D data modeling and processing, and Urban Robotics complements us very well. From an EO perspective, their products and technology just fit the OGS way. When interacting with partners, we look for people who think like us, have an up tempo attitude and want to get things done. These folks want to interact in a better way and they provide scalable solutions for our customers. That attitude and culture was a great trend we saw in Urban Robotics.
ExecutiveBiz: How will Urban Robotics be restructured within the larger organization?
Omar Balkissoon: There's very little restructuring in the traditional sense. They will be fully integrated with our back office, benefits, payroll, etc. and will be run just like any other business unit that we have within OGSystems. They'll have their own profit-and-loss as well as unique customer requirements, resources and staffing needs that are specific to their Portland, Oregon location and customer activities.
What really excites us is their integration into our VIPER Labs platform. They will have access to our innovation centers, customer channels, software platforms; demoing the art of the possible and making all their ideas a reality through the VIPER Labs infrastructure. Our business development folks will leverage their cool technologies, products and services to pursue other angles of opportunity to benefit the company overall.
ExecutiveBiz: What parts of cluster computing are agencies particularly interested in?
Omar Balkissoon: We work specifically with agencies that are highly interested in distributed computing across the cloud, whether it is private, public or some hybrid version they may be exploring. We use Hadoop, Spark and other unstructured and structured techniques in processing data varieties that require intense computing. We focus on releasing products that are faster, more accurate, and less expensive as well as in tune to the mission requirement.
When these data collection sensors are up and flying around, how does one get onboard processing, streaming and distributing of exploit data-ready products for quick reaction needs? That is what we strive to answer daily with our customers.
We are constantly looking at all the distributed processing techniques in the technology field today, and we ask ourselves, how do we bring that to market for customers who are looking for a high-impact quick turn? The answer is not necessarily more analysts to do the job, but the orientation of the data in a manner and fashion that is smarter and faster so they can understand the problem at hand.
ExecutiveBiz: How do you see the geospatial systems market shaping and evolving this year?
Omar Balkissoon: We see it evolve daily. You see the explosion of commercial satellite imagery with all of these micro and nano satellites from Skybox, Planet Labs and other players coming online. The UAS market is exploding with small micro-drones that have high-resolution cameras. We are looking to harness all of that with more data coming in. The market is shifting into an environment with an explosion of geospatial data and we are going to be all over that.
That is one of the major reasons we were inspired to look at Urban Robotics; their light-weight optical sensors and processing techniques coupled with our geospatial heritage makes for fantastic innovation. We all know that there is a constant flow of data, but the trick is in the processing of that data, and creating a smart analytical platform that allows analysts to work smarter, faster and more effectively. Efficient ISR capabilities are going to be highly sought after for customers and unique missions and we're arming ourselves for that.
The Urban Robotics' portfolio fulfills our continued need in having more tools that addresses real-time data processing that pushes the envelope in a scalable and reliable manner. At the end of the day, you need highly available and capable processing at a cost-effective price point.
ExecutiveBiz: What opportunities led you and your partners to found OGSystems and where do you want to see the company in five years?
Omar Balkissoon: My co-founder Garrett and I were sitting in a meeting during a program kick-off. The result of that meeting was another all-day meeting. We founded OGSystems after seeing total inefficiency; creating more meetings for meetings' sake. Problems were assessed over and over and nothing was actually done about them. At that time, we were the youngest guys in the room, and we agreed that there surely was a better way to effect change and achieve the mission goals of the folks depending on our services.
We are all about rapid innovation and turning ideas into reality. We gather the customer, subject matter experts, developers, and integrators in a room and use a technique called vision engineering, where we brainstorm the idea through visuals on the wall and develop solutions from that collaboration. The goal is to have a working solution in 90 days, as that is how the commercial market works and that's how we believe our customer will succeed against emerging mission requirements.
In the next five years, our vision is to be a pure-play, innovative geospatial data analytics platform. Whatever the mission need, be it server-side collecting and monitoring cyber threats through air ISR sensors seeking the next high-value target, we will have the ability geo-reference every piece of data in the 3D realm through our agile development, integration, and subject matter expertise.