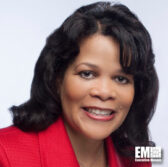 Marilyn Crouther, senior vice president and general manager for the U.S. public sector at Hewlett-Packard, has presented the company's efforts to reduce its carbon footprint in support of the White House's efforts to address climate change.
Crouther represented HP in a recent roundtable discussion with the White House and other federal suppliers to highlight government and corporate goals for greenhouse gas emissions, HP said Friday.
According to Crouther, an inductee into Executive Mosaic's Wash100 for 2015, HP has been working to forward transparency in disclosing its carbon footprint and help its own suppliers and customers reduce their footprint in turn.
Over the next five years, the company said it plans to slash 20 percent of its greenhouse gas emissions from operations, another 20 percent from the supply chain and 40 percent from the product portfolio.
These efforts are part of the administration's overall plans to issue an executive order mandating the government's own target of a 40 percent reduction in greenhouse gas emissions and 30 percent increase in the use of renewable sources for electricity by 2025.