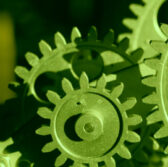 BAE Systems has inked a collaboration deal to provide foundry services to POET Technologies in support of the latter's plan to transition into a Lab-to-Fab platform.
POET said Monday the agreement covers process transfer, prototype builds and development of design enablement kits through an initial phase that runs through August.
BAE's support in the Lab-to-Fab plan works to facilitate improved process control, quality and analytical functions for the prototype builds and drive device optimization, POET added.
POET Chief Technology Officer Daniel DeSimone noted that BAE brings its process development and manufacturing experience to the partnership.
The company said the program's initial phase will utilize 3-inch semiconductor wafers and work toward progressing to 6-inch wafers.