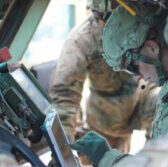 The Defense Advanced Research Projects Agency has partnered with seven companies to build tools for distributing air warfare functions across multiple unmanned and manned platforms.
DARPA said Monday it aims to blend new and existing airborne sensors, weapons, navigation, electronic warfare, positioning, navigation, communication and battle management architectures through the agency's System of Systems Integration Technology and Experimentation program.
"If we are successful, the military services will be able to add or swap out capabilities across existing manned and unmanned platforms at lower cost and in shorter time," said John Shaw, a DARPA program manager.
The agency awarded contracts to Boeing, General Dynamics, Lockheed Martin and Northrop Grumman to create the SoS architectures as well as testing and integration tools.
DARPA said it is also working with BAE Systems, Rockwell Collins and Apogee Systems to produce new technologies to facilitate open systems architecture development.