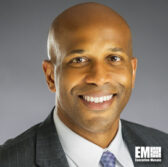 Tony Frazier became senior vice president of DigitalGlobe's government solutions business earlier this year and oversees the geospatial imagery provider's work with U.S. government customers.
Frazier, an inductee into Executive Mosaic's Wash100 list for 2015, joined DigitalGlobe through its 2013 combination with GeoEye, where he led communications and marketing initiatives in an SVP role.
In this conversation with ExecutiveBiz, Frazier gives his perspective on DigitalGlobe's evolution since the merger, the company's work with the National Geospatial-Intelligence Agency to track the Ebola outbreak in West Africa and why DigitalGlobe values the open source community's contributions to geospatial technology.
ExecutiveBiz: What areas of the business have you focused on since you've started your new role at DigitalGlobe?
Tony Frazier: We have focused on U.S. government solutions and making sure that the broader community of players throughout the defense, intelligence and State Department communities are getting full value out of the investments that the National Geospatial-Intelligence Agency has made in imagery.
There is a big opportunity to go from just delivering raw data into the areas of information insight. We spend a lot of time engaging with different stakeholders in the military and intelligence community, primarily to understand potential new products that can be built to meet their full mission requirement.
ExecutiveBiz: What led you to join GeoEye initially and how have you seen the combination with DigitalGlobe shape itself since?
Tony Frazier: It's been an incredible journey. Prior to this industry, I worked in commercial tech companies like IBM and Cisco, then transitioned to consulting in the start-up world. My experiences during that time had been in the area of analytics with an emphasis on analyzing and extracting information from content like documents, the Web, videos, etc. GeoEye was in an industry of collecting a lot of data that wasn't fully mined.
It would be producing maps but not more than that. Taking that foundation and seeing it fully realized was an interesting challenge. When I joined GeoEye we had just closed a deal with Spadac, a company in the geospatial predictive analytics market.
It was exciting to see those capabilities and analytics evolve through the combination with DigitalGlobe and organic development, applied in scale to address the world's biggest problems. It has been very fulfilling to extract raw content and apply analytics to solve problems, and I've had the chance to do this for the better part of my career.
ExecutiveBiz: Why does DigitalGlobe involve the open source community in the development of the MrGeo toolkit?
Tony Frazier: We see a massive opportunity associated with getting more value out of all the data being collected by our satellites and other forms of remote sensing. We have been working with the NGA for five years on developing the built-in spatially enabled Hadoop. Since it was a bigger problem that NGA or DigitalGlobe could not tackle alone, we agreed to collaborate on a public release of the core foundational building blocks.
We are supporting it as part of their Open IT initiatives, which involve establishing a GitHub site. We are continuing to extend that by bringing in a whole system around it and collecting a massive amount of data. We collect 3 terrabytes of data a day with our constellation and we have 60 petabytes in our archive.
It is a big deal to enable the community to analyze the data and enrich it with different forms of processing. We are not a software company, but we build a lot of the technology as part of the broad ecosystem to get the solution developed faster.
ExecutiveBiz: What kind of responses are you getting from users of the NGA's online Ebola information tool?
Tony Frazier: It has been really transformational. Director Robert Cardillo, the head of our primary NGA customer, said one of his goals is to make the NGA a more transparent agency and a catalyst for innovation. With the Ebola crisis, there is a massive need to mobilize resources. There are billions of dollars going into the region to provide medical support and to set up and manage facilities. Not understanding what's occurring on the ground can cause resources to be applied inefficiently.
With the public Ebola map, we were able to contribute both imagery and human geography data with an open license for sharing across the aid community. This allowed NGOs like the World Health Organization, International Red Cross and many others to openly tap into those resources. At the INSA Leadership Dinner, Director Cardillo clarified that over a million people visitied the NGA site to access information. That number could have amounted to more if it would have been shared on government networks and systems.
We are currently collaborating with Penn State University on a massive open online course, where that same content is being used for an exercise. We are excited that 20,000 students have registered for this course, because it means opening up something that had been considered very focused and narrow in this industry.
ExecutiveBiz: How do you see the open source community's role in geospatial technologies evolving this year?
Tony Frazier: There is a massive open source ecosystem that traditionally has not been relevant in the geospatial or geographic information systems market. Companies like Cloudera are focused on building a set of open source tools for exploiting big data. Twitter, Google and Yahoo have built out a lot of building blocks in this space. Traditionally GIS data have been applications on the desktop or the workstation, but there are a lot of unconventional forms of GIS emerging.
Having 10-15 million geotagged social media posts a day creates a lot of data. With the proliferation of data that has time and place associated with it, the tools have to keep up and GIS architectures will be able to accomplish that. We are focused on taking the burgeoning open source community and adding spatial capabilities to it. Projects like MrGeo are the start of other initiatives where we can realize our purpose of Sseeing a Better World.
ExecutiveBiz: Name a trend that we should watch in 2015.
Tony Frazier: The power of collaborative participation in the geospatial market is going to be very profound. With the Ebola example and sharing of information, I am excited about empowering users to contribute back to the map. There is a growing community of users that are active crowdsourcing contributors for mapping applications. DigitalGlobe has a network of over a million people that analyze imagery and send out notifications during a crisis, which enable rapid greater sharing of valuable imagery and information.
This will reach an inflection point in 2015 as people get comfortable with the power of extracted data and think about the application to new forms of response and recovery.